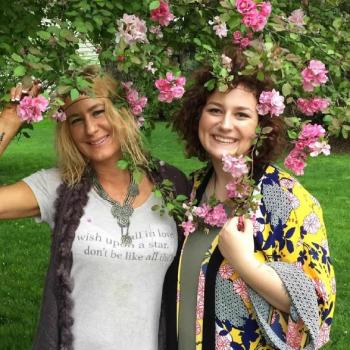 Music lovers of the world, unite! The Love of Music, hosted by Maria Kozakova and Stephanie Bates, aims to collect and share stories of songs which have fueled personal paradigm shifts, served as soundtracks to major life metamorphoses, or simply bring back intimate memories for the members of our community.
Maria Kozakova is currently a senior at Ames High School. Originating in the European country of Slovakia, music has been her way of finding a home away from home. "You know those annoying people who say they listen to every kind of music? I'm kind of one of them," she admits, "although some of my favorites are cuban rap (like Orishas, for example), Czech folk songwriters such as Jaromir Nohavica and Karel Kryl, and 40's Boogie Woogie."
From acquiring a record collection of a size verging on obscene to losing most of the hearing in her right ear due to her religious concert-going, music has always been an intrinsic part of Stephanie Bates' life. Between donating her time to working with kids with special needs, volunteering at Reliable Street and United Way, and being a mother of three, Stephanie still manages to find time to nurture her love of music. Some of her all-time favorite genres include (but are not limited to) classic rock, bluegrass, soul, and late 80's and 90's alternative.
The Love of Music is an hour long show airing every Thursday at 10 pm. Connect with us on Facebook (@TheLoveofMusicKHOI), on Instagram (@loveofmusic_khoiradio), through email (theloveofmusickhoi@gmail.com), or call us at (515) 450-7557!