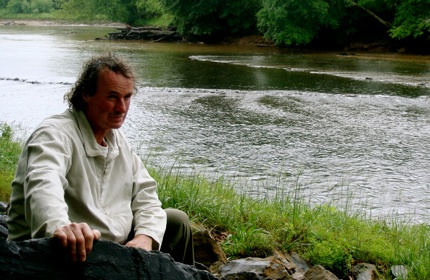 Joseph S. Plum is a direct descendant of Cherokee Grandfathers and Welsh Bards. He lives in rural Southern Iowa within a group of trees, where he composes and presents poetry of original nature. Joseph has been composing Bardic poetry in the forest for over fifty years. He lives in a small cabin without running water or electricity, and maintains a sustainable lifestyle based in the natural environment he calls home.
In the Pirate Sons of Poetry series, Joseph S. Plum records his own spoken poetry intermingled with music that inspired the moment.
A once in a lifetime collaboration with Mark McGuire of Cleveland, Ohio on electronic keyboard and guitar is enjoyed in various episodes. Mark is a well-traveled musician, and Joe, while he has traveled, has spent most of his days simply by the creek. This highly unusual coming together of talents, musician and poet, traveler and local, from two different worlds, flows like that creek, water between earthen banks.
Other episodes showcase Joseph accompanying his spoken poetry with his own music, playing acoustic guitar or piano.
Joseph has eight books of poetry published with Dreaming Deer Press, and has presented his poems in live performances across the United States and Wales.
Visit JosephSPlum.com to see his books and more.