Thursdays 2 pm-4 pm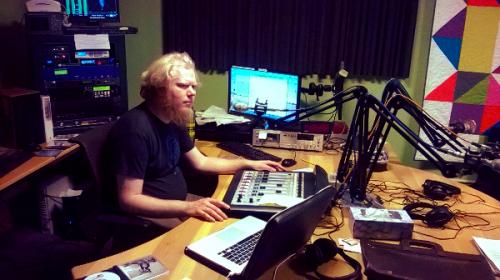 Ready, Ames, Fire! is a two-hour show dedicated to Iowa music hosted by Paul Hertz. It serves as an exclusive platform for local musical talent and occasionally includes interviews with artists.
"I try to find local bands and have them featured on air. The show usually has a good mix of music, sometimes with or without a theme," Hertz says. The show was originally hosted by Bryon Dudley who also came up with the concept for the show. Hertz took over the show in January 2014. The name of the show is a pun that is supposed to denote an exciting start.
Originally from Nevada, Hertz has an academic background in music and math with a master's degree in math from Iowa State. He loves how the seemingly different subjects intersect in several ways. "I find these two subjects inter relate very well with finding patterns in the abstract. With an academic focus in classical music, I didn't get involved with local music until I came to Ames. My willingness to approach all genres of music from a theoretical perspective helps immensely," Hertz says.
He looks forward to using his show as an instrument to bring a local musical flavor for listeners in the community.
Fun fact: One time the show took listeners through an alphabetical run through of music in Ames. For a complete listing.
To keep up to date on the show be sure to like it on Facebook.