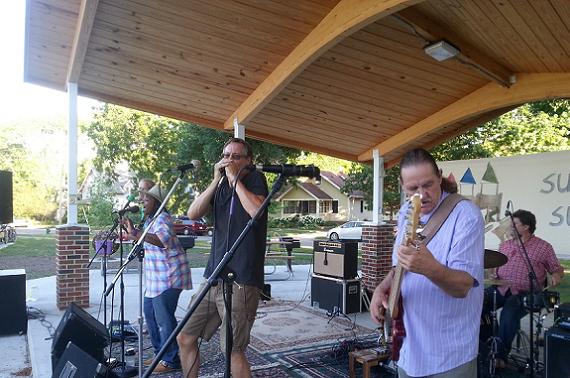 KHOI is partnering with Roosevelt Summer Sundays to broadcast a selection of their Sunday evening concerts. The first ever Roosevelt Summer Sundays to be broadcast will be the June 26th performance of the Vinyl Vagabonds, a local R&B and Blues band that features heartfelt vocals, sweet guitar, harmonica, and a swinging but solid rhythm section. The concert was broadcast on Wednesday, June 29th at 9:00 PM. Additional concerts will also be aired on this Wednesday evening timeslot as they become available.
Roosevelt Summer Sundays are a weekly Summer concert series put on by Friends of Roosevelt Park. The Friends are a community, neighbor-to-neighbor, organization that has been keeping the music playing for 13 years (and counting). Concerts run from 7:00 - 8:30 PM every Sunday from June 3 to August 14 this Summer. The many attendees and other supporters fund the series and pay the musicians well for their services. The recent addition of a sloping roof over the stage has been beneficial for stage sound and musician comfort.
Doctor Murdock will perform at Roosevelt on July 17th, and the broadcast will be July 20th. Two other concerts are in the works at this time. Please support Roosevelt Summer Sundays with your attendance and donations.