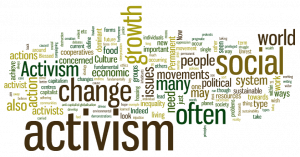 The show began with the weekly news roundup with Dennis Hart. Host, Gale Seiler, interviewed Kirstin Sullivan, who is a Government teacher at Ames HS. She talked about how the school aims to develop young people who are politically aware and engaged. She also shared her perspective on the conversations around the recent student actions against racism and injustice and the learning that occurred leading up to the protests and since.
Alex Fejfar from the Ames Historical Society filled us in their new exhibit about immigration, called Trunks, Hands and Hearts. From Susan Franzen, we heard about an important moment in Ames LGBT history – which she was a part of – that illustrates the importance of political engagement.

Originally broadcast 10/20/2017
Listen to the entire episode now!