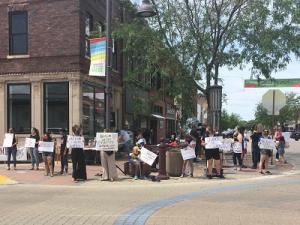 A 24-hour vigil was held on Main street in Ames, on the past Saturday. Many showed up to be heard and seen with signs. Some of their voices can be heard here. Reverend Jeremy Bolles, pastor at Body of ChristChurch, starts off the recording with a street-side mini-sermon.
Boone resident Sam Bass describes a Boone Black Live Matter march planned for Tuesday in Boone. Although some stores have boarded up their windows, the demonstration is expected to be peaceful and lawful.
Dr. Michael B. Edmond, Chief Quality Officer and Associate Chief Medical Officer for University of Iowa Health Care and Clinical Professor of Infectious Diseases at the University of Iowa Carver College of Medicine explains how face shields were introduced successfully at the University of Iowa hospital. He explains why face shields are superior to masks and may even be a tool for ending the pandemic.
Anna Banana brings Heart to Heart Messages. Send Anna your message to read on the air. Text it to 515-809-0077 or email it to khoiradio@gmail with Heart to heart in the subject line.

Originally broadcast 06/08/2020
Listen to the entire episode now!