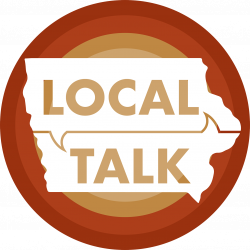 KHOI's Greta Anderson, recently had an opportunity to visit with Mustard Seed Farms about a fundraising project that involves candle making.
(Fund Raising week) Please consider becoming a member and making KHOI Your community radio station with your financial support. Go to our website at: KHOIFM dot ORG and press the Yellow Donate Button to begin the process of becoming a member.
Alisha Abner with the ISU Farmhouse Museum fills us in on what is happening at ISU Farmhouse with the approach of the holiday season. Refer to the website to discover details of the regular and additional holiday hours they will be open as they present a victorian style Christmas.
Susan Gwiasda Communications Officer for the City of Ames and Assistant City Manager Deb Schildroth. Susan informs us about the last two free yard waste days upcoming meetings and additional update
Deb, reviews the Climate Action Plan workshop with the Ames City Council planned for tonight(Tuesday 16th). This will be archived and available is available by referring to the Ames city website.
The Ames Human Relations Commissions is accepting applications for its annual Humanitarian Award. This award is announced each year during the community MLK celebration in January. The deadline is early December refer to the city website for details.
Anna, Magnusson KHOI's Top "Good News Banana" brightens our day.
Offering Poems, Music, and a review of Tuesday programs;
Tom Russell's; All Things Piano, Donna Prizgintas and Lana Nachtigal's; Donna-Lana Kitchen, Mary Richard's Community Bookshelf, Science Bytes with Sam Wormley and Mike Meetz,
Anna Magnusson's Heart2Heart along with a sneak peek at Thursday's, You Name It , presented by Mike Murphy.
Deb Schildroth: cityofames.org.

Originally broadcast 11/16/2021