Originally broadcast 06/01/2018
Listen to the entire episode now!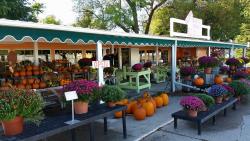 Today's Local Talk program took us back to the beginnings of Slim's Country Market on US 69 at Story City. Slim Jr. talked with Maggie Westvold about his dad and mom starting the roadside produce stand 75 years ago, shared interesting and fun stories about growing up as part of that family business and reminisced about his parents' strong work ethic and how changes have taken place over the years.
A musician from Tropicante, a band which will play at this year's first Roosevelt Summer Sundays Concert, talked with Colin Burczek, KHOI intern, about their Latin dance band kicking off the 2018 season on Sunday, June 3rd, 7:00 pm, at the former Roosevelt elementary playground at 911 – 9th Street NW in Ames.
Maggie Westvold talked with Ursula Ruedenberg about Art Walk 2018 in the downtown Ames' Mainstreet Cultural District, happening Friday, June 1st, 5:00 to 8:00 pm. KHOI Community Radio is part of this inspiring event each year with mural painting in the studio and Redz Bluez band playing out front! Listeners were encouraged to come by and enjoy and step into the studio and pick up a brush!
Finally, Susan Gwiasda with the city of Ames, shared what's happening around town and gave us an update on the emerald ash bore situation; talked about a recent generous contribution for the new healthy living center to be built in west Ames; what to do when a power outage occurs at your home (call 515-239-5240). Also, the phone number for hours at the Furman Aquatic Center is open (515-239-5434)