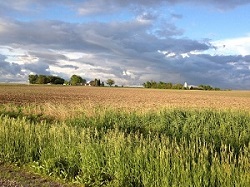 KHOI Radio is proud to be hosting an annual, national radio conference here in downtown Ames. The Grassroots Radio Conference (GRC) will take place August 14-17, 2014, and is co-sponsored by Pacifica Radio. Visit the website at www.grc2014.net.
The GRC is a professional conference comprising one cornerstone of national non-commercial community media, and is widely loved among radio operators and radio fans. Visitors to the conference will be traveling to Ames from across the USA and Canada. We are expecting 150-200 attendees: radio producers, journalists, legal experts, engineers and community radio volunteers for the conference.
We are excited to further introduce the magic of community radio. Therefore, if you live in central Iowa, we are inviting you to stop by the conference anytime and join in, free of charge.
We will hold a pot luck welcome party on August 14th at 5 PM in front of KHOI at 410 Douglas Avenue in Ames. Join us, bring a dish, or just stop by to help welcome the guests. This is a great opportunity for you to learn more about who we are at KHOI. It will be lots of fun; you will meet amazing people, and discover the magic of building community through communication.
We are proud to bring people from all over North America to experience Iowa hospitality. To support our local community and businesses we will be holding the conference in the heart of Ames, the Main Street area; the conference venue will be the Octagon Center for the Arts on Douglas Avenue, and KHOI across the street from the Octagon.
We invite members of the community to participate in one or more of the following ways:
Become a sponsor
Offer specials from your business
Host a conference member in your home
Help with transportation
Attend the conference (suggested donation of $20 per day for local residents)
Loan a bicycle for the conference
Check out the conference website at www.grc2014.net, visit our station at 410 Douglas Avenue in Ames, or give us a call at (515) 292-2878.
As a member of the community we hope you will join us in welcoming the conference goers.