Contact the KHOI Board of Directors:
khoiradio@gmail.com
(515) 292-2878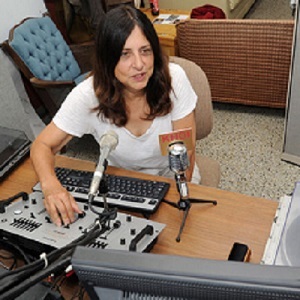 Ursula Ruedenberg
Station Manager
khoiradio@gmail.com
(510) 812-7989
Ursula grew up in Ames, Iowa and has been living for the past 30 years in New York City. Ursula began painting sets for her mother, Veronika's puppet theater and spent much of her life as a professional mural painter. She has a Master of Fine Arts in painting from the New York academy of Art. She returned to Ames in order to help get KHOI on the air and to spend some time with her dad, Klaus. Ursula has been a community radio listener since she discovered Pacifica while living in Los Angeles in the 1970's. She currently is employed by Pacifica Radio, managing their affiliate network of around 200 stations (including KHOI). She feels community radio is the best thing and it is her pleasure to help bring this type of media to Central Iowa. In her free time, Ursula is hard at play, building a straw-bale lasagna garden in her father's backyard under the watchful eyes of the deer.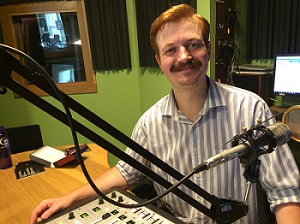 Evan Taylor
Operations Manager
ejt74804@gmail.com
(515) 292-2878
grew up in Lawrence Kansas. His interests include, among other things: reading, home brewing, running, and cooking. He holds a Bachelor of Arts in American Literature with his thesis on Joseph Heller's Catch 22 and the military industrial complex. He holds a Matser of FIne Art in literature from ISU wit his thesis on the nexus between art and personhood in a commodity-driven consumer culture, as examined in Oscar Wilde's The Picture of Dorian Gray and Edith Wharton's The House of Mirth. He loves working in community radio becasue of "Incredible work done by volunteers to create high-quality programming and electric collaborative atmosphere in the studio!"
Rebekka Reuter
Assistant Administrative Manager
bekka@bekka.xyz
Rebekka Reuter Assistant Administrative Manager bekka@bekka.xyz Better known as "Bekka," she started volunteering for KHOI during October of 2013, during her term as an AmeriCorps VISTA in Ames. A native of Midwest, she moved to Ames from Lake Geneva, Wisconsin to attend Iowa State University and has attained both a Bachelor of Industrial Design (thesis: community vermicomposting system) and a Master of Design in Sustainable Environments (capstone: mindful soundscape awareness). She got her start in radio by dj-ing at 88.5 KURE Ames Alternative and is generally a hoarder of music. Bekka is an autodidact and a Renaissance woman and considers her professional career an attempt to ground design and philosophical theory in community. You may find her doing an eclectic array of projects that range from painting, reading comics and playing Minecraft to sommelier studies, coding, and attempting telepathic communication with cats.