COMMUNITY BOOK SHELF (CBS)Mondays, Tuesdays and Wednesdays
1:00 - 1:30 PM and 8:00 - 8:30 PM
Community Book Shelf features primarily books, short stories, and poetry by local authors, read sometimes by the authors, sometimes by local narrators. If you have a suggestion for something you'd like to hear read on the air, please contact us through this website, or the station's e-mail: khoiradio@gmail.com. Please mention the Community Book Shelf in the subject line. This program is produced and edited by Mary Richards. Co-producers are Mary Howard, and Janet Klaas. Evan Tayor is the station engineer.
LAST SELECTION: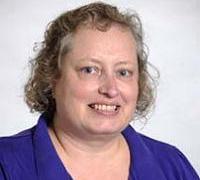 Spun Around, by Ann Richards, read by Mary Richards, is a children's book telling the story of the three fates, daughters of Zeus, who determine the lives of all humans: Clotho, the spinner of life; Lachesis, the "alterer" or life; and Atropos, the inexorable, who cuts the thread of life. Ann was raised in Nevada, Iowa. She is now a writer and religious educator living outside Washington, D. C. When she is not at work, she enjoys teaching knitting, watching movies, and having urban adventures with her family. A program of poetry will be aired on Tuesday, June 6. Spun Around will begin on Wednesday, June 7, 2017, with an interview with her mother, Community Book Shelf producer Mary E. Richards and will run for about two weeks. The book will end on Monday, July 10 and be followed by the Greek play by Aristophane and an introduction of the Current Selection on Tuesday, July 11.
CURRENT SELECTION: Borderland, by Michele Hoover
read by Ginny Molgaard.
Borderland, by Ames native Michele Hoover and read by Ginny Molgaard, tells the tribulations of German-Americans in the midwest. This novel won the "All Iowa Reads" designation for Iowa and surrounding states. It will begin at the conclusion of the reading of Spun Around.
NEXT SELECTION: Anything But Civil, by Anna Loan-Wilson
read by Mary Howard.
"Hattie Davish is delighted to be ably assisting her wealthy employer, Sir Arthur Windom-Greene, an English scholar who is fluent in Civil War history and is hard at work putting together a definitive biography of General Cornelius Starret. Between her work for Sir Arthur, preparing for Christmas, and unscheduled visitors from her past, Hattie has time to investigate a murder, but she is soon lost in layrinth of secrets and deceit that leads to more questions than answers. Loan-Wilsey combines meticulus research with sturdy characters in her second Hattie Davish mystery [Publishers Weekly].
Poetry and volunteer readers/engineers
We offer poetry to complete our program time when books end mid-program, and use one- or two-day programs as an interlude between longer book narrations. We are happy to consider poetry you may have to offer. Volunteers welcomed. We are always happy to interview potential narrators or program engineers. To learn more, contact the station by phone or e-mail.