Mondays, Tuesdays and Wednesdays 1:00 - 1:30 PM and 8:00 - 8:30 PM
Community Book Shelf features primarily books, short stories, and poetry by local authors, read sometimes by the authors, sometimes by local narrators. If you have a suggestion for something you'd like to hear read on the air, please contact us through this website, or the station's e-mail: khoiradio@gmail.com. Please mention the Community Book Shelf in the subject line. This program is produced and edited by Mary Richards. Co-producers are Mary Howard, and Janet Klaas. Evan Tayor is the station engineer.
CURRENT SELECTION:
On Monday, February 06, 2107, producer Mary Richards interviewed author Lucas Bleyle. Beginning Tuesday, February 07, author 15-year-old Ames native Lucas Bleyle will begin reading his own dystopian novel, The Scavengers. Bleyle, when not writing books, can be found somewhere in the woods with a group of friends from dawn to dusk, cobbling together a fort. He also enjoy such things as the satisfaction of popping open an umbrella, seeing people nodding along while he speaks, and listening to uncontrolled saxophone duets. Lucas, now 14, lives in Ames, Iowa, with his parents, four sibings, two dogs, a cat, a fair amount of mice, and the occasional fellow crashed on the couch. He completed The Scavengers as an eighth-grader. The novel's illustrator is Blaine Garrett, a Minneapolis-based fine artist and illustrator. More of Garrett's artwork can be found at his website:http://dimmedia.com. Bleyle will read from his book from 1:00 to 1:30 p.m., Mondays through Wednesdays. Each reading will be repeated from 8:00-8:30 pm, Mondays through Wednesdays.
LAST SELECTION: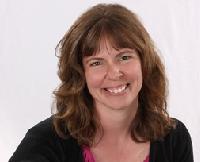 On Monday, December 26, producer Mary Richards interviewed Anna Loan-Wilsey, author of the Hattie Davish mystery series. The first in the series, A Lack of Temperance, was published in 2012. "On the eve of the heated presidential eletion of 1892, Miss Davish arrives in Eureka Springs, Arkansas, a scenic resort town where those without the scent of whiskey on their breath have the plight of temperance on their tongues. Summoned for her services as a private secretary, Hattie is looking forward to exploring the hills, indulging her penchant for botany--and getting to know the town's handsome doctor. But it's hard to get her job done with her employer nowhere to be found. An army of unassuming women wielding hatchets has descended on the quiet Ozark village, destroying every saloon in their wake. So when their beloved leader, Mother Trevelyan, is murdered, it's easy to point fingers. As she follows a trail of cryptic death threats, Hattie will come face to face with a killer far more dangerous than the 'demon rum' [from the cover]. The novel will be read by veteran author-narrator, Mary Howard, beginning on Tuesday, December 27, and will be read on Mondays through Wednesdays at 1 p.m. and repeated at 8 p.m. Ms Loan-Wilson, who has advanced degrees in botany and library science, has written four other Hattie Davis mysteries: Anything but Civil (2013); A Sense of Entitlement (2014); A Deceptive Homecoming (2015); and A March to Remember (2016), all of which will be read on Community Book Shelf--so stay tune!
Poetry and volunteer readers/engineers
We offer poetry to complete our program time when books end mid-program, and use one- or two-day programs as an interlude between longer book narrations. We are happy to consider poetry you may have to offer. Volunteers welcomed. We are always happy to interview potential narrators or program engineers. To learn more, contact the station by phone or e-mail.