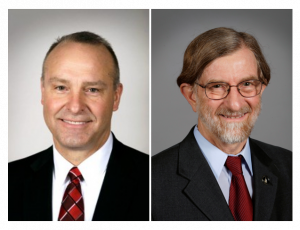 The Goldfinch - our state bird - is nesting now! Here their song and learn about this charming bird's behavior and habitats.
On Monday, the Iowa Civil Liberties Union filed what is believed to be the first transgender rights lawsuit to be filed in the Iowa courts since 2007, when Iowa put gender identity protections into the law. The suit is on behalf of Jesse Vroegh, a male Iowa prison nurse whose state employer, the Iowa Department of Corrections, denied him use of the men's restrooms and locker rooms. It also denied him health care coverage for surgery he needed, because he is transgender.
All three state universities in Iowa have made 5-year plans for tuition hikes: ISU and U of I proposed 7% hikes for 5 years and UNI proposed 7% the first year, then 3% for the next 4 years. Interim Governor Reynolds has expressed concern, saying Iowa families cannot afford the increases over 5 years. Democratic State Senator Herman Quirmbach of District 23 (from Ames) and Republican State Senator Tim Kraayenbrink of District 5 (from Fort Dodge) weigh in. Kraayenbrink is Co-Chair of the Education Appropriations Committee for the Iowa Legislature. Quirmbach is ranking member on the Education Committee and serves on the Education Appropriations Subcommittee.
Allyson Walter from the Ames Convention and Visitors Bureau gives a preview of upcoming events in the area.

Originally broadcast 08/30/2017
Listen to the entire episode now!