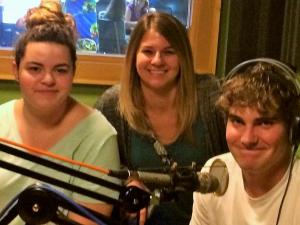 Sergeant Derrick Grooters of the Ames
Safe Neighborhoods Team
describes how this designated police team was created to build positive relationships and neighborhood safety.
Jazzmine Brooks, ISU Sexual Misconduct Prevention Coordinator, and Mark Rowe Barth, ISU Director of Student Wellness, explain the
Green Dot Program
that ISU will roll out on
September 27
, an innovative, culture-changing new program to reduce sexual assault by educating bystanders on how to respond with help.
Brenda Dryer from Ames Chamber of Commerce introduces Vicki Hales, business teacher and supervisor of the
Business Engagement Collaborative at Ames High School,
part of the Chamber's k-12 engagement in Story County. With them, were Kevin Maxwell and Tyler Postma, two high school students who are participating in the business training program.
From the Ames Convention and Visitors Bureau, Allyson Walter, Member and Visitor Services Manager and Julie Keiffer, COnference and Events Manager, describe how the Bureau helps bring conventions and events to our area and how they assist any group that wishes to plan something themselves.
Find out how to enjoy our area in October with upcoming events and things to do.

Originally broadcast 09/25/2017
Listen to the entire episode now!