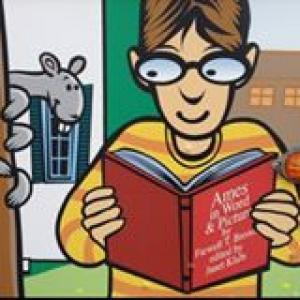 This program is a tribute to
Janet Klaas
, one of KHOI's original sustaining member, listening from her room in hospice. Janet's contributions go well beyond KHOI, however. While she was research librarian at Ames Public Library, she worked with with
Farwell T. Brown
, whose collections of photographs and family diaries provide the backbone of the history of Ames. The entire collection has been digitized and is accessible online at Ames Historical Society. Also, Janet has edited three books based on
Farwell's papers.
At the same time, the meeting of the Keigley Watershed Listening Session was held in Gilbert by
Prairie Rivers of Iowa,
Janet's husband
Erv Klaas
guided the discussion, followed by a slide presentation by the students from the Gilbert High School class of
Cara Reinhart.
Participants from that class,
Jacob Torresi, Eleanor Lopez, and Brett Porter
described the experience doing serious water testing. Then
Rick Lopez and Cheryl Moss
talked about the issues they see living on the banks of Keigley Branch. We concluded the show with selections from local musicians Elizabeth Zimmerman, Jonathan Sturm, and Mei-Hsuan Huang.

Originally broadcast 10/25/2017
Listen to the entire episode now!