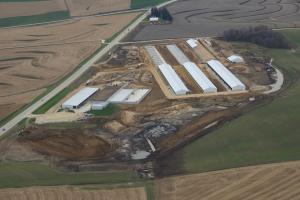 A meeting is planned to be held in Elkader Iowa to discuss plans being made, to build a 10,000 head cattle feed lot in the watershed for Bloody Run Creek, a cold water trout stream North of Dubuque. Environmentalist author Larry Stonediscusses the water qualities issues that are involved. Stone was an outdoor writer and photographer for the Des Moines Register and is author of many environmentalist books including Listen to the Land, Citizen of the Natural World, and Gladys Black: The Legacy of Iowa's Bird Lady, and Iowa: Portrait of the Land
Patricia Izbicki, graduate student in neuroscience at Iowa State has recently been recognized as an Iowa Woman of Innovation by the TechnologyAssociation of Iowa, one of ten women so recognized. She is researching , how music affects the human brain, nervous system, and various diseases . She explains her research, together with her major professor, Dr. Elizabeth Stegemoller.
Brenda Dryer, Director of Workforce Solutions at the Ames Chamberof Commerce, announces the Story County job fair and discusses employment/unemployment rates in Story County.

Originally broadcast 11/20/2017
Listen to the entire episode now!