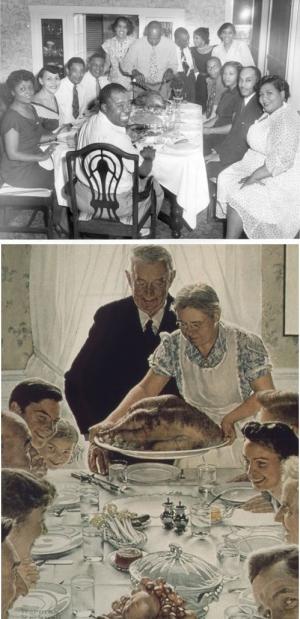 To prepare for Thanksgiving we sat around the table in our studio with storytellers Dan Bagley and Patrician Coffie talking about memories of Thanksgiving and its foods. ​After several servings of turkey and ham with plenty of gravy here in central Iowa​, we turned to jazz with Louis Armstrong complaining to Velma Middleton of "All That Meat and No Potatoes." To bring ou​r feast t​o ​​2017​,​ we went to the viral YouTube Hip Hop Thanksgiving song, "Grandma: What Are You Cooking for Thanksgiving?" by Pastor Shirley Ceaser -- you can see here. We ended the show ​with a Thanksgiving Prayer​ by​ Johnny Cash.
Photograph courtesy of the Louis Armstrong House Museum
Norman Rockwell "Freedom from Want"

Originally broadcast 11/22/2017
Listen to the entire episode now!