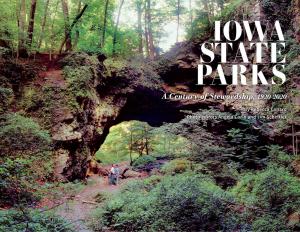 To celebrate the work that Iowa libraries have done during COVID19 we brought together librarians from three libraries in our listening area -- Kolleen Taylor of the Bertha Bartlett Library in Story City, Shanna Spear, director of the Nevada Public Library, and Zack Spier (Mr. Z) children's librarian at the Erickson Public Library in Boone. They discussed how they have served their patrons though not being officially opened, as well as the many ways the Iowa State Library Association supports and connects libraries throughout the year. The latter half of the program was devoted to the history and centennial celebration of the Iowa State Parks. Steve Lekwa, retired Story CountyConservation Board Director and Mark Ackelson, Former President of the Iowa Natural Heritage Foundation talked about the resources available to guide people to enjoy the Iowa parks-- especially the new book, 100 Years of Iowa Parks: A Century of Stewardship, 1920-2020 and the "passport" available from the Iowa ParksFoundation, We ended the show with an announcement of the POOR PEOPLE'S CAMPAIGN, a virtual March on Washington scheduled for June 20, 2020.

Originally broadcast 06/17/2020
Listen to the entire episode now!