COMMUNITY BOOK SHELF (CBS)Mondays, Tuesdays and Wednesdays
1:00 - 1:30 PM and 8:00 - 8:30 PM
Community Book Shelf features primarily books, short stories, and poetry by local authors, read sometimes by the authors, sometimes by local narrators. If you have a suggestion for something you'd like to hear read on the air, please contact us through this website, or the station's e-mail: khoiradio@gmail.com. Please mention the Community Book Shelf in the subject line. This program is produced and edited by Mary Richards, and Mary Howard. Eric Blocker is the station engineer.
CURRENT SELECTION: Town Kid, by Gary Porter, narrated by Bryon Dudley
This book tells of a simpler place and time - growing up in the small town of Greenfield during the fifties and sixties. It was published by The Write Place in 2018.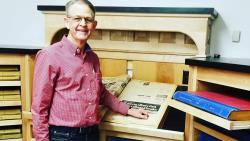 Author Gary Porter (courtesy of the author).
NEXT SELECTION: Hunger Bone, by Debra Marquart, narrated by Mary Richards
Poetry and volunteer readers/engineers
We offer poetry to complete our program time when books end mid-program, and use one- or two-day programs as an interlude between longer book narrations. We are happy to consider poetry you may have to offer. Volunteers welcomed. We are always happy to interview potential narrators or program engineers. To learn more, contact the station by phone or e-mail.