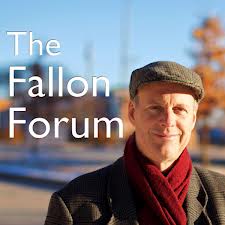 Airs on KHOI Wednesdays at 4:00 PM
The Fallon Forum, a "fusion of politics and civility" began in September, 2009, as a pioneering effort to bring local, progressive talk radio to Iowa. It has grown during the past 5 years and can now now be heard on stations covering 12 Iowa counties. The show is a rebroadcast recording of a live online talk show.
Join the program live each Monday from 11:00 AM - 12:00 PM on the Fallon Forum website.

Host Ed Fallon is committed to providing a venue for civil discussion of all viewpoints on the political spectrum as an alternative to national shock jocks, who have dominated the public airwaves for the past twenty years, feeding the frenzy of increased polarization in American politics.
To join in the live conversation on Mondays from 11:00 a.m. -- 12:00 p.m, go to the Fallon Forum website.: http://fallonforum.com/.
For more information, contact Ed directly at fallonforum@gmail.com or (515) 238-6404.