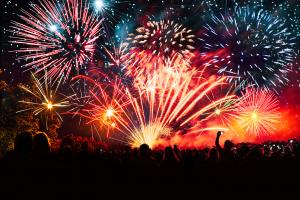 Following a brief report from regional newspapers, especially announcements of road closures due to flooding, civic reporter
Dennis Hart
joined
Susan Franzen
in exploring Independence Day celebrations in central Iowa -- Ames and well as the county seats of Story, Boone, and Greene counties. Our feature from Ames was an interview with Patrick Phillips, the commander of
American Legion post 37
, which was kicking off the Centennial year of the National American Legion this July 4. Commander Phillips reviewed the history and service activities of the Legion over the past 100 years, including a few surprises.
Much of the focus of our stories was on fireworks displays and how they varied in timing and financing in the towns considered. Dennis discussed the music and entertainments preceding the large display at Reiman Gardens in Ames, which occurred last night (July 3), partly to enable more cost-effective production of an elaborate fireworks display before the rush on July 4. The other towns celebrated on the 4th and had varying solutions for this problem. Lynn Scarlett of the Nevada Chamber of Commerce described the traditional features of Nevada's Fourth of July complete with pancake breakfast by the fire department , band concert in the park, fireworks in the evening and much more. For a complete change of pace we spoke with Rob Waton, owner of the Boone Speedway, where the people of Boone can watch a "fabulous fireworks" display following the "Eve of Destruction" -- races, rollovers etc. Waton gave us a history of the speedway, which has been operating in Boone for 51 years. In Jefferson, the expensive quest for a good fireworks display has been met by a partnership with Wild Rose Casino. We closed our show with a medley of Patriotic songs.

Originally broadcast 07/04/2018
Listen to the entire episode now!