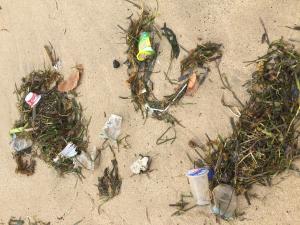 The show started with the roundup of Ames news from Dennis Hart. Then today's host, Gale Seiler, interviewed Dr. David Grewell from the Department of Agricultural & Biosystems Engineering at ISU, where he is also Director of the Center for Bioplastics and Biocomposites (CB2). They spoke about the problems caused by plastics in the environment and efforts to use plant proteins to make biorenewable, biodegradable plastics. Dr. Grewell shared several interesting success stories from this line of development. He provided the photo of plastic washed up on a beach in Bali during a recent visit he made there. In the last part of the show, Anne Kinzel from the Ames Progressive Alliance spoke with Barb Wheelock about becoming a community activist during retirement.

Originally broadcast 07/27/2018
Listen to the entire episode now!