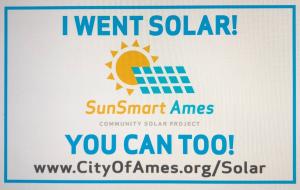 After Dennis Hart's news roundup from surrounding local newspapers we heard from Matthew Covington telling us about next week's presentation by Kevin Simowitz, Political Director for Caring Across the Generations. We hosted a discussion of solar power between Don Kom, Director of Ames Electric Utilities, about the Ames Sun Smart Solar program and Tim Dwight, from the California based solar start-up Integrated Power Corporation, bringing us an outside perspective about the potential of solar energy in Iowa. Then Jay Wilson from the Story City Greater Chamber Connection told us about the recent improvements to the Story City Antique Carousel. The show ended with Maggie Westvold's "Points to Ponder," a touching but light-hearted reflection on funerals.

Originally broadcast 09/12/2018
Listen to the entire episode now!