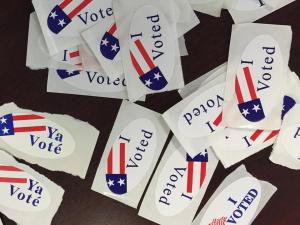 After a brief announcement of election returns, we hear Ursula Ruedenberg's interview with the last three voters in Story County, who voted at Buchanan Hall shortly before midnight. These first time women voters stood in line for over two hours hours after the polls closed at 9 p.m., and gave inspiring statements about what it meant to them. Then Suzanne Zilber, a clinical psychologist who has been serving Iowans for 28 years,came to the studio to tell us about a workshop that will take place this Saturday, November 10, "Post Kavanaugh: Women Sharing Support." Returning to politics, we heard from Patti Naylor, Democratic Candidate for Greene County Supervisor, who ran to publicize issues that go far beyond Greene County -- siting of CAFOs and wind turbines. Finally Maggie Westvold's Points to Ponder was a brief history of migrant farm labor with a personal fond memory of "Boomer," the itinerant laborer who came to her family's farm near Colo to help with the harvest each year when she was a child.

Originally broadcast 11/07/2018
Listen to the entire episode now!