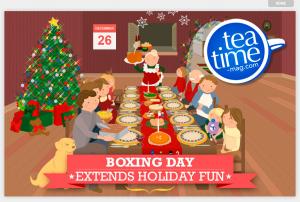 The Day After Christmas has different names and is celebrated in different ways in many countries. We had former residents of three countries to tell about the customs and foods of Great Britain, Canada and Sweden. Reporter Greta Anderson spoke with Kay Puttock and Deborah Bunka about Boxing Day, when gifts are given to people who provide services throughout the year. Deborah reminded us of St. Stephen's Day, involving charitable giving. Then Marcus Johnson, proprietor of Mucky Duck Pub, and Kay Puttock discussed favorite foods and activities enjoyed on Boxing Day in Britain (and Ames if you can get them). Our show closed with Annandag Jul [The second day of Christmas] , which is when families play games, go ouIt in the snow, and tell stories. Daniel Sterk read a traditional story, "The Tomten,"which inspired Ingrid Anderson to tell about the stories told by her Swedish grandparents at their old farms in the forest.

Originally broadcast 12/26/2018
Listen to the entire episode now!