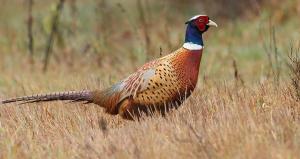 We heard from three diverse people about their hopes for local action in 2019. Linda Murken, County Supervisor elect, speaks about concerns for soil and water and what we can do about it in Story County. Wildlife Biologist Erv Klaas is organizing local groups for a Climate Action Plan to deal with a climate emergency as described by US government report as well as the IPCC (Intergovernmental Panel on Climate Change). And Lucas Bleyle, Ames High School Student, reports on the fears of young people over the predicted climate disaster, as well as the positive things they are doing. Pat Schlarbaum's phenology on the ring-necked pheasant brings us a better understanding of Iowan's favorite game bird.
The Ames Public Library is sponsoring a series of Programs:
CLIMATE CRISIS: FACTS AND ACTION
Gather with community members for a light meal, then learn from experts not only why the climate is in crisis, but different ways we can mobilize to reduce greenhouse emissions and sequester carbon. (food at 6:15p, program beginning at 6:30p)
Wednesday, 16 Jan, 2019 Learn The Science Behind Climate Change and Why You Should Care
​Facilitator: Erv Klaas, ISU Professor Emeritus of Animal Ecology
Monday, 25 Feb, 2019 Using the Courts to Kick Start Climate Action. Can Children Show Us a Direct Path Forward?
Facilitator: Channing Dutton, attorney Channing Dutton, of Lawyer, Lawyer, Dutton & Drake, LLP
Wednesday, 27 Mar, 2019 Saving Iowa's Soil: Climate Change and Agriculture
Facilitator: Jerry Hatfield, USDA Agriculture and Environment Laboratory
Sunday, 14 April, 2019 Ames Reads Leopold
​Join guest readers as we read aloud the writings of Aldo Leopold, widely acknowledged as the father of wildlife conservation in America.

Originally broadcast 01/02/2019
Listen to the entire episode now!