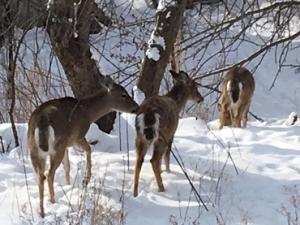 Dennis News gives a summary of Iowa stories in the news during the past week.
Becca Lee, Communications manager for Planned Parenthood of the Heartland, explained that organization's new Campaign, Say Abortion, with billboards going up in various cities, aimed at changing Iowans' perception of abortion from a politicized issue to what they call "private and normal medical procedure." This campaign is in part a response to recent "Heartbeat Law" that forbids abortion once a heartbeat is detected in a fetus. According to Planned Parenthood, this effectively outlaws most opportunities for abortion in Iowa.
Adam Schwartz Director of U.S. Department of Energy's Ames Laboratory, explains why the partial government shutdown is not affecting their operations.
Sarah Nusser, Vice President for Research at Iowa State University, talks about how the government shutdown is affecting research at ISU.
We get a statement from Ed Curlett, Director of Public Affairs at the USDA National Animal Disease Center - which is experiencing the shutdown - about emergency staffing to care for the animals there.
Jane Graham, Nevada resident, reads poetry about Winter, Spring, and family.
Tyler Harms,biologist for the Iowa Department of Natural Resources, explains Chronic Wasting Disease, which is spreading among wild deer in Iowa.

Originally broadcast 01/07/2019
Listen to the entire episode now!