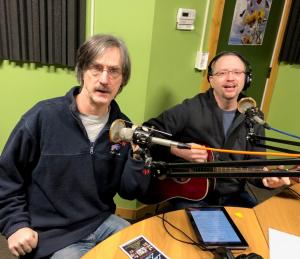 Aaron Lehman, president of the Iowa Farmers Union, the oldest farm organization in Iowa, answered questions about the effect of Rep. Steve King's being removed from the House Agriculture Committee by describing the work the House has ahead of it in implementing the recently passed Farm Bill. Anna Johnson, policy manager for the Center for Rural Affairs, filled us in on the fate of some of the programs that will be determined by the current bill. Turning to entertainment, we got a preview of Laugh Out Loud! from the show's Producer, Clark Ford, and MCs Tom (Florek) and Doug (Gentile), with a song from the musical opening this weekend. Two Community Theatre productions are also opening, and representatives from their casts spoke with us. Angela Rottering, director of The Trouble with Cats, described the play at Webster City Community Theatre, and Ali Kirwen, who plays the bride in Happily Ever After, tells us about the farce playing at Ankeny Community Theatre.

Originally broadcast 02/06/2019
Listen to the entire episode now!