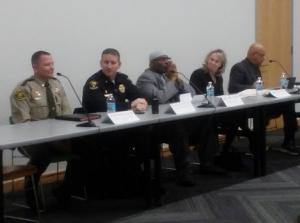 Dennis Hart gives a summary of Local news form the pages of the Ames Tribune.
Thursday night, a panel discussion was held in Ames about "Stand Your Ground Law" that was passed by the Iowa legislature in 2017 allowing violent acts of self-defense, based one's reasonable perception of danger. Local Talk offers excerpts from what speakers said, including Wayne Clinton, past Story County Supervisor, Jessica Reynolds, Story County Attorney, Al Abdu Samad, legislator and creator of Creative Visions, Commander Geoff Huff of the Ames City Police, and Lt. Nicholas Lennie from the Story County Sheriff's office. The discussion was hosted by League of Women Voters of Ames and Story County and the Carrie Chapman Catt Centerat ISU.
Tre Moore, KHOI's newest intern from the Greenlee School of Journalism, intorduces his first installment of his "Untold Ames" series. He takes us out of our comfort zone with an untold story of homelessness and ISU students.
Merry Rankin, Sustainability Director for ISU and Ames and Kerry Dixon, Sustainability Coordinator of Design and Construction Services for Iowa State University and member of the City of Ames Public Art Commission roll our the City of Ames' Public Art Birdhouse Competition and invite you to join in, making birdhouses for an exhibit at the Octagon and ultimately for an Ames city park.
Merry also announces their upcoming Symposium on Sustainability Feb 18 and 19, open to the public.

Originally broadcast 02/08/2019
Listen to the entire episode now!