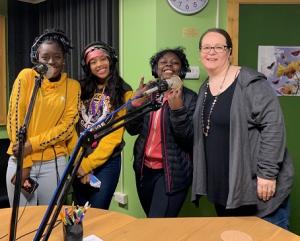 Dennis Hart gives a rundown of Iowa in the news last week.
KHOI Women's issues reporter Joy B. gives a historical perspective on International Women's Day, on Friday, March 8th, around the world and at the Ames Public Library.
Mary Logsdon, Adult Services Manager and interim General Manager of the Ames Public Library, and Dava James from the League of Women Voters of Ames and Story County, give background and vision behind the Ames International Womens Day and introduce activities such as a performance by the Ames High Step Team, a panel discussion between local women in politics, the opening of one time capsule and the creation of a new one, and more. Everyone - women, men, children - are invited to the International Women's Day Celebration on March 8th from 6:30 to 8:30. Don't be late, or you will miss the Step Team.
And speaking of...members of the Ames High Step Team Aisha Conteh, Dashawna Green, and Sionna Stokes tell you first-hand what they perform, how they do it, and why it is so exciting and inspiring. They also talk about how being African American women has impacted their lives. We also hear from their coach, Jean Muhammad, who is also Student and Family Advocate at Ames High.
Charles Knicker, organizer of last weekend's Theologian in Residency Program of the Ames United Church of Christ (UCC), describes lessons learned last weekend when a distinguished group of lawyers, activists, filmmakers, and social workers came to the UCC, along with the visiting theologian in residence, Rev. Dr, David Vasquez-Levy who is President of the Pacific School of Religion in Berkeley, CA.
We hear excerpts from his presentation, as well as observations by film maker Luis Argueta. Participants in the weekend program Lee Molgaard and David Hansen also gave their impressions and share experiences they have had relating to immigration and what Central Americans face.
Bronwyn Beatty Hansen, from the Ames City Council - at Large, gives a schedule events when the City asks for citizen input in the next month.

Originally broadcast 03/04/2019
Listen to the entire episode now!