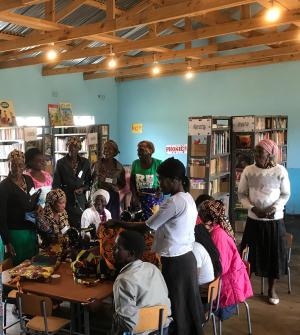 Our show today started with Pat Schlarbaum's report on how animals are surviving this unusual winter. Then we turned to the various organizations working together to bring the Ames City Council to address the climate crisis. Ames High School student Chiara Travesset came in to talk about how students at AHS are joining the climate strike and other sustainability issues. She was joined by Dr. Erv Klaas, Professor Emeritus of Animal Ecology, who has become a leading environmental activist in his retirement. They discussed the work of the coalition of organizations that make up the Ames Climate Action Team. Updating us on the progress being made to fund Ames Solar Farm (SunSmart Ames), Don Kom, Ames Electric Department Director told us of the new initiatives to encourage businesses to invest in SunSmart Ames.
The second half of the program took us far from Iowa as Dan Beane, farmer from near Marshalltown, told us how he has developed a relationship with Tongogara refugee camp in Zimbabwe. Through his stories we glimpsed another world -- and a way that people in central Iowa influence and are influenced by people on the other side of the world.

Originally broadcast 03/13/2019
Listen to the entire episode now!