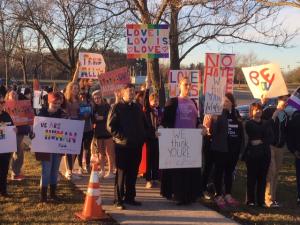 We had a live report from Ursula Reudenberg who was at the demonstration of love for LGBTQ+ students at Ames High School, in response to anti-gay protestors from out of state. The Making Democracy Work award is being given by the Ames Chapter of the League of Women Voters this week. Host Gale Seiler interviewed the League President, Nancy Halvorson, and the award recipient, Bev Kruempel. Pat Schlarbaum brought us a phenology about finches affected by conjunctivitis and what bird lovers can do to prevent its spread. Keith Morgan from Story County Emergency Management shared several ways to stay informed about emergency events in your area.

Originally broadcast 04/08/2019
Listen to the entire episode now!