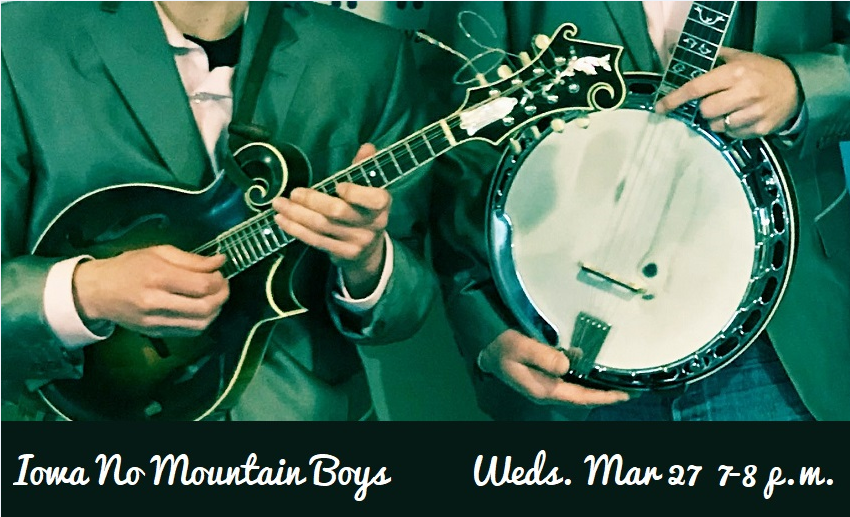 Pantorium Sessions presents The Iowa No Mountain Boys
KHOI Community Radio's monthly performance series, The Pantorium Sessions, presents the Iowa No Mountain Boys band on March 27 from 7:00 - 8:00 PM. The band will play in the station's lobby area to a live audience, and their music will be broadcast live over the radio.
This traditional bluegrass band is centered around regular gatherings at the Ames home of Mark Hargrove. Mark has played banjo in Iowa area bands for nearly twenty years and has been with Lori King and Junction 63 for the last five years in which he has traveled from North Carolina to Texas and throughout the Midwest.
Kyle Murphy grew up playing in a family band in California before attending East Tennessee State University where he majored in math but spent most of his time playing in the nationally famous ETSU Pride Bluegrass Band. Following several seasons of touring with Jeff Brown and Still Lonesome, Kyle moved to Ames to attend graduate school at Iowa State.
The guitar player and lead singer for the group is Don Pippins, another recent transplant to Iowa. Don lives in Fort Dodge now, but his bluegrass roots extend back to Southern Ohio (his permanent residence) and Louisiana (his ancestral home). Don is a fixture of the southern Ohio bluegrass scene and can sing a high lonesome number at the pitch of a dog whistle.
Tabitha Hood, the bass player and harmony singer is the go-to bass player for bluegrass in Iowa. She too was raised in family bands where she sang all the parts and never missed a note. Mark and Tabitha worked together in the band Southern Reign for many years and have maintained a lasting musical relationship centered on traditional bluegrass and tight harmony singing.
The complete Pantorium Sessions Roster