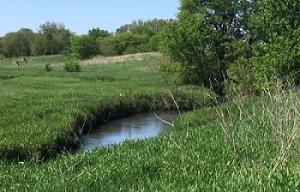 Dennis Hart gives a summary of Iowa news of last week.
Local Talk brings excerpts from presidential candidate John Delaney's stump speech and questions from the audience at Cafe Diem last Thursday. Delaney proposes initiatives for health care, green energy to combat climate change, and service corps for young people to address national problems and sustain parks.
A Memorial Day story of local resident and conservationist Lorna Carroll Sellberg and her creation of Carroll Prairie, at the intersection of Avenue 610 and 200th Streets, East of Millford Township. Sellberg worked with theIowa Heritage Foundation to memorialize her father by donating half the value of this land and transferring it to Story County Conservation for public use. The land, dedicated on April 22nd, includes native prairie remnants, oxbow wetlands, and the meandering West Indian Creek.
Abby Hade Terpstra, Iowa Natural Heritage Foundation Donor Relations Director, describes programs such as their Iowa conservation tax credit, that assist land donors in protecting and dedicating natural land for public use, while transferring it to local conservation groups.
Joe Jayjack, Iowa Natural Heritage Foundation Communications Director, describes recent laws and bills of the 2019 Iowa legislature (Bill 542) to restrict Iowa Natural Heritage Foundation from assisting farmers who want to transfer land for public use. He encourages Iowa residents to communicate support to legislators for conservation of natural land.
Chrystal Davis, Director of Destination Ames, Member & Visitors Services of the Ames Visitors and Convention Bureau, previews some of exciting public events and activities for the month of (end of) May June. Calendar of events.

Originally broadcast 05/27/2019
Listen to the entire episode now!