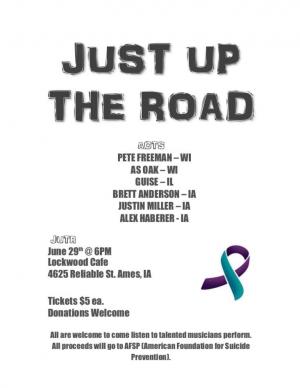 Dennis Hart provides Iowa in the News from the prior week.
Excerpts from NYC Mayor and presidential candidate Bill De Blasio's speech given at the Democrats Big Tent event at Alluvial Brewery on June 8th.
Alex Haberer, resident, poet, and musician from Boone, explains the reason and purpose for "Just Up the Road," a concert to be held to bring attention to suicide prevention and support for friends and families who experience the suicide of a loved one. Haberer also recites and original poem.
The concert will include musicians and poets honoring their deceased friend, Kyle Muench. Muench, who was as a published musician, died last year; this concert honors him while celebrating the continuation of life after a suicide occurs with a loved one. The concert will occur on June 29 at 6 PM at the new Lockwood Cafe in West Ames. Lockwood Cafe is located at 4625 Reliable Street. All donations collected will be given to the American Foundation for Suicide Prevention.
Crystal Davis from the Ames Convention and Visitors Bureau gives preview of public events and entertainment for the month of July. Schedule of events.

Originally broadcast 06/24/2019
Listen to the entire episode now!