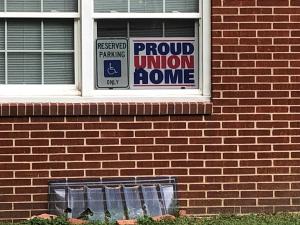 Today's program featured an interview with Dan Homan, the president of the American Federation of State, County and Municipal Employees, Iowa Council 61. He discussed the state of labor unions in the United States, the decline of union membership in the private sector, and why he believes unions are important to American workers.
Also appearing on the program was Tom Durkin, who is heading up the campaign against the Healthy Life Center bond referendum in Ames. That election will take place Sept. 10, when voters will decide whether to approve $29 million in bonds for the proposed $49 million Healthy Life Center. Durkin said the proposed HLC would prove to be a burden to Ames taxpayers.
Ames Police Dept. Commander Jason Tuttle also was on the program, discussing steps the department will take to handle the large crowd expected to attend tomorrow's Iowa State University home football opener at Jack Trice Stadium. He also talked about the new $40 parking fines that will be instituted for illegal parking in neighborhoods near the stadium.
And regular contributor Maggie Westvold talked about playing 6-on-6 girls' basketball when she was growing up in Iowa.

Originally broadcast 08/30/2019
Listen to the entire episode now!