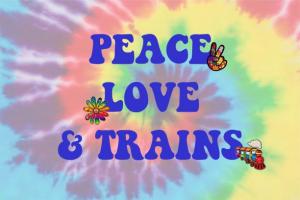 Alyssa Knudsen started our program by giving us a detailed rundown of the events of Pufferbilly Days 2019, with it's parade themed "Peace, Love and Trains," A feature of events was the Boone Community Theatre open house previewing its upcoming operetta, Pirates of Penzance. Cast members Joe Zimmerman, David Michael, Coriann Westvold, along with La Homa Simmonds came in to tell us about preparations for the show. We had recordings of from the ribbon cutting for the inclusive sidewalk at the corner of Douglas Avenue and 5th Street. Mayor John Haila, Dr. Reginald Stewart -Vice President for Diversity and Inclusion at Iowa State, Bronwyn Beatty-Hansen, and nicci port all spoke to KHOI reporter Ursula Ruedenberg at the celebration. Janet Vine and Sally Daub came in to the studio to invite people to Ames Pridefest this Saturday, and to discuss the importance of the celebration, especially for young people struggling for acceptance from their communities.

Originally broadcast 09/04/2019
Listen to the entire episode now!