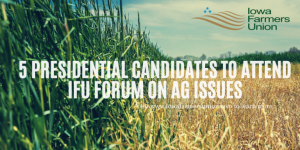 Leanne Harter gave us the monthly Story County Report. Then Sunni Kamp,, executive director of the Story County Community Foundation, interviewed Erick Danielson from Iowa College Access Network, recipients of a 2019 SCCF grant. Aaron Lehman, president of the Iowa Farmers Union, joined Cornelia Flora and Paul Wierson for a discussion of the November 6 IFU State Convention. We played a brief clip from Bernie Sanders, one of the six Democratic candidate at the convention, and concluded with a discussion of the challenges farmers face today.

Originally broadcast 12/18/2019
Listen to the entire episode now!