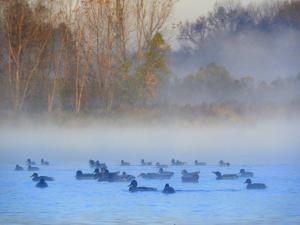 This New Year's Program drew from KHOI archives on Christmas and New Year's Bird Counts, including basic information from Steve Dinsmore, Shane Patterson, and Jim Pease; how birding can enrich family life with Amy Yoakum, Mike Hudley and Max Hudley; Wolf Oesterreich telling us about birds at Ada Hayden Lake and how people can share this knowledge (and photos) through the Friends of Ada Hayden blog and Facebook page; reflections on the 40th anniversary of the Endangered Species Act with Stan Temple; an alert from Erv Klaas, whose career in with the Fish and Wildlife Sevice made him aware of environmental threats to trout and eagles from the proposed Pebble Mine near Bristol Bay in Alaska. Finally Joe Lynch mused about his awe as eagles are nesting on central Iowa rivers and creeks where they have never been before--an auspicious beginning to the decade starting on New Years 2020.

Originally broadcast 01/01/2020
Listen to the entire episode now!