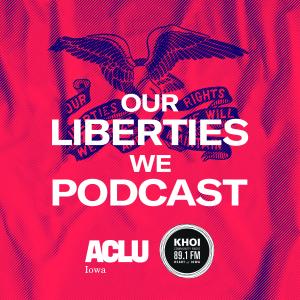 We started today's show with a collaboration between KHOI and the American City Liberties Union (ACLU) of Iowa -- "Our Liberties We Podcast" with Daniel Zeno. The topic was felony disenfranchisement in Iowa and the constitutional amendment to restore voting rights for felons who have fulfilled their sentences. Then we turned to the case of the Mahla Shahkhajeh, an Iranian graduate student bound for ISU, who had been denied entry to the US in spite of an extensive visa examination at the American embassy in Tehran. To learn of ISU's response to this we spoke with Gary Mirka, professor of industrial and manufacturing systems engineering at Iowa State University, who told us the specifics of Mahla's case as well as the importance placed on International graduate students in engineering at ISU. Fran Amin, a biomedical engineer who came to ISU for graduate school from Iran in 1976, and has studied and worked in Ames every since, told us a little about how the Iranian Revolution had changed the lives of women, but how there are consistently a high number of well trained women engineers. We ended the show with Lori Haynes giving us news of Boone Community Theatre's upcoming events.

Originally broadcast 02/19/2020
Listen to the entire episode now!