Purchase CONCERT HALL TICKETS and LIVE STREAM LINKS online
KHOI presents "Iowa's Renaissance Man"Chad Elliott and Grammy Award Winning Bo Ramsey on Sunday, May 9 at 5pm at Stephens Auditorium. Join us for the love of music and to support community radio!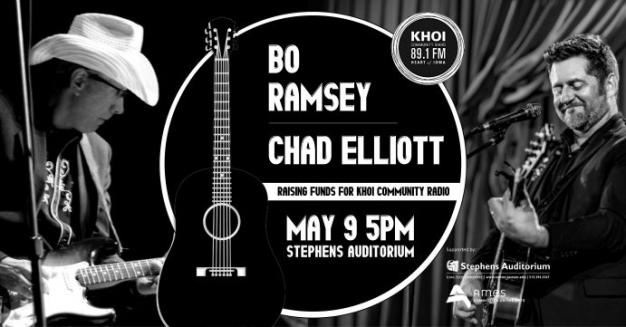 The concert will be held at Stephens Auditorium to kick off KHOI's spring membership drive. Tickets are $25 for reserved seats and $50 for VIP reserved seats (first 11 rows). Livestreaming for home viewing will also be available for $15/single and $25/group.
Safety protocols will be in place with physical distancing in the seated areas and enhanced disinfecting procedures. Masks will be required unless actively eating/drinking.
Midwest singer-songwriter Chad Elliott is lauded as "Iowa's Renaissance man" by Culture Buzz Magazine. Elliott blends folk roots, swampy blues and soulful writing to deliver an original Americana sound. His live performances have been honed over a decade of being on the road performing more than 200 shows each year. He has penned more than 1,500 songs in his career while also cultivating his skills as a painter, sculptor, illustrator, and author. Elliott's latest album "Singing River" will be released on May 17t, , produced by Bo Ramsey and recorded at the legendary Muscle Shoals FAME Recording Studio.
Bo Ramsey is known for mesmerizing songs with deep messages. Ramsey is a Grammy-Award Winning Guitar Player, 2 Time Grammy Nominated Producer, Iowa Rock & Roll Hall of Famer, and Iowa Blues Hall of Famer. A native Iowan, he has worked with Lucinda Williams, Greg Brown, Kevin Gordon, Pieta Brown, and Charlie Parr. It's thrilling to gather again to hear these master Iowa artists at CY Stephens in honor of KHOI. Experiencing live music in a safe setting is something we've all been desperately missing.
Like all community radio stations, KHOI FM relies nearly exclusively on donations from listeners, and area businesses and organizations. The station will be raising operating funds in May during our biennial membership drive. A successful Spring Membership Drive is a necessary component of keeping the airwaves humming with local voices. We so appreciate our member-donors, and it is also great to expand KHOI's reach and service in hard times for community. We hope to connect with 100 new members this Spring.
KHOI thanks Chad Elliott and Bo Ramsey for supporting community radio.
KHOI thanks Stephens Auditorium for co-sponsoring this event.
This concert is made possible by a grant from The Ames Commission on the Arts.