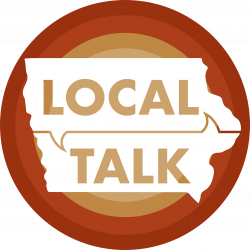 Cleora Stanley is the Des Moines artist hosted by KHOI during Art Walk - a celebration of coming back to public life in downtown Ames, last Thursday. Cleora tells us a little about herself and her impression of Ames.
Valerie Williams, Executive Director of the local dance company, Co'Motion, and Design Intern Dani Steffes, announce that summer 2021 registration is now open for Kid's Co'Motion. Kids Co'Motion is a three-week daily modern dance workshop for children from July 12 to 31, ending in a concert at the bandshell. The workshops train students aged 8-18 in dance technique, composition, artistic collaboration, and stagecraft. Dance experience is not required to participate. Information and weekly updates are at Facebook and Instagram (@kidscomotion)
Iowa's Resource for International Service, or IRIS, is a non-profit, non-religious organization headquartered in Ames that works to promote international education, development, and peace through people-to-people exchange programs that develop and enhance citizen diplomacy. Del Christensen, Executive Director of IRIS, describes a current virtual hosting program underway between Iraqi families, which will culminate in leadership training in July, preparing Iraqi youth to lead volunteer projects in Iraq. IRIS is currently looking for businesses who are interested in sponsoring their 2021 Peace Day September 19th, a multi-cultural event and race that raises funds for IRIS while raising awareness of international human relations. To inquire about this, contact Del Christensen at 515-971-0953 or by email at info@iris-center.org.
Steven McMenamin, Iowa's highway rest areas Administrator for the department of transportation, explains the vision, work, and politics behind Iowa's exceptional rest areas. Special attractions that actually inspire rest area tourism, they are designed by artists to include historical exhibits integrated into the building and ground designs. An overview of the different themes and histories can be seen online.

Originally broadcast 06/07/2021