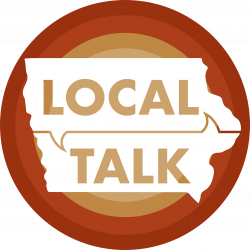 Brenda Dryer; Senior vice president Ames Chamber discussed the intern program, called "See Yourself In Ames" and the positive efforts, outcomes of the program within the Ames community.
Erica Place; Story County Conservation Outreach Coordinator joined us for a monthly review the programs and activities offered for various age groups; families and children in the county conservation/education areas.
Susan Gwiasda, City of Ames Public Relations Officer and City Planner, Julie Gould
Discussed a new way folks of our community, using neighbor hood banners to display in the parade and individual yard signage to be displayed in from of city hall. The parade is schedule for 11AM on the 4th
Anna, Magnusson KHOI's Top "Good News Banana" brightens our day.
Offering Poems, Music, and a review of Tuesday programs;
Tom Russell's; All Things Piano, Donna Prizgintas and Lana Nachtigal's; Donna-Lana Kitchen, Science Bytes with Sam Wormley and Mike Meetz, Anna Magnusson's Heart2Heart along with a sneak peek at Thursday's, You Name It , presented by Mike Murphy.,

Originally broadcast 06/08/2021