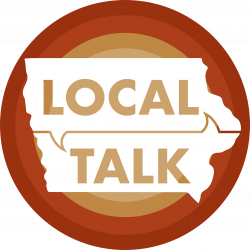 Dr. John Paschen, Chair of the Story County Board of Health
Updates, percentages, safe practices during certain activities/
variant concerns and potential for increase in cases post 4th celebrations and at start of school.
D
iscussed how we convince folks to trust and accept with the inoculation series?
Pat Schlarbaum interview; Carolyn Raffensberger
Susan Qwiasda,
City of Ames Public Relations Officer and Stormwater Analyst
Liz Calhoun
importance of keeping pollutants out of the stormwater, and the
EcoChat
is planned for that evening at the
Ames Public Library
Anna, Magnusson KHOI's Top "Good News Banana" brightens our day.
Offering Poems, Music, and a review of Tuesday programs;
Tom Russell's;
All Things Piano
, Donna Prizgintas and Lana Nachtigal's;
Donna-Lana Kitchen
,
Science Bytes
with Sam Wormley and Mike Meetz,
Community Bookshelf with Mary Richards,
Anna Magnusson's
Heart2Heart
along with a sneak peek at Thursday's,
You Name It
, presented by Mike Murphy.
Carolyn Raffensberger https://www.sehn.org/carolynsta.

Originally broadcast 07/06/2021