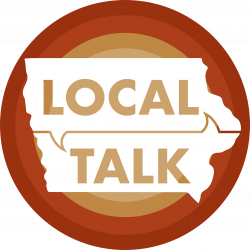 Dr Molly Lee, Story County Board of Health with updates and information regarding the latest on the COVID-19 virus especially now that students are returning to schools reviews 'Swiss Cheese' model for taking precautions to limit your exposure to the virus.
Bryon Dudley joins us to share information about Maximum Ames and connection with PRIDE events occurring this week; Friday and Saturday? He reviews the venues participating and highlights the musicians involved.
Susan Gwiasda Communications Officer for the City of Ames reviews the upcoming free yard waste dates for the fall. Municipal Engineer Tracy Peterson discusses major construction projects throughout the city includes (Duff/Grand/13th street).
Anna, Magnusson KHOI's Top "Good News Banana" brightens our day.
Offering Poems, Music, and a review of Tuesday programs;
Tom Russell's; All Things Piano, Donna Prizgintas and Lana Nachtigal's; Donna-Lana Kitchen, Mary Richard's Community Bookshelf, Science Bytes with Sam Wormley and Mike Meetz,
Anna Magnusson's Heart2Heart along with a sneak peek at Thursday's, You Name It , presented by Mike Murphy.

Originally broadcast 09/07/2021
Listen to the entire episode now!