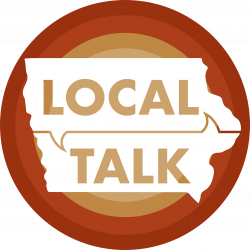 To Monday's LT the rebroadcast of the 2019 interview Pat Sclarbaum has with IDNR biometrician, Dr. Tyler Harms discussing CWD; We update our listeners on the spread of CWD in Iowa; It has now been detected in 10 counties; Allamakee,Clayton,Winnesheik,Fayette,Dubuque,Jackson,Appanoose,Wayne,Decatur,and Woodbury.
We Observe the passing of ArchBishop Desmond Tutu Democracy Now well covered yesterday.
In Addition: two "giant oaks"
Dr. E.O.Wilson, preeminent scientist, naturalist, author, and teacher. two new scientific disciplines (island biogeography and sociobiology)
92
Dr Thomas Lovejoy preeminent scientist, naturalist, author, enviromental advocate, climate activist.
(BIOlogical DIVERSITY)
80
and we acknowledge This day in 1846 Iowa joined the union as the 29th state.
Feathered Friends Tuesday we visit with Dr. Tyler Harms about Iowa Youg Birders and Snowy Owls in Iowa. We spend some time with Stephanie and Todd Burras of Wildbirds Unlimited in Ames learning about winter bird feeding and the common woodpeckers at winter feeders.
KHOI's Sam Wormley
reviews the winter
Iowa State university Oshier Life Long Learning
courses and we visit with
Carolyn Jons ISU Olli Instructor
about a course being offered on
Grandparents,Parents,andCaring Adults Help Children Read to Succeed
.
Susan Gwiasda Public Information Officer for the City of Ames joins us to discuss the Ames climate action plan meeting update, and we discuss various ways on how folks can reduce their CO2 footprint.
Civil Engineer Dean Sayre[unable to join in]
Anna, Magnusson KHOI's Top "Good News Banana" brightens our day.
Offering Poems, Music, Humor, and a review of Tuesday programs;
Tom Russell's;
All Things Piano
, Donna Prizgintas and Lana Nachtigal's;
Donna-Lana Kitchen
, Mary Richard's
Community Bookshelf
, Eric Blocker's
KHOI JukeBox
, and
Science Bytes
with Sam Wormley and Mike Meetz,
Anna Magnusson's Heart2Heart along with a sneak peek at Thursday's, You Name It , presented by Mike Murphy..

Originally broadcast 12/28/2021