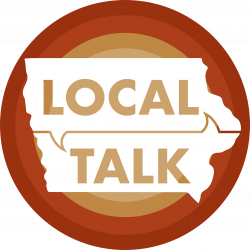 As New Year's Eve 2022 approaches, we are reflecting on past shows as we announce some unusual events for this year. We started with Paul Wierson's interview with 15 year old Hawk McIntire, singer songwriter from Boone on his debut appearance on KHOI in 2014. Since then he has become nationally successful. Then Danielle Ziegler from Ames Public Library Youth Services announced the Noon Year's Eve Party from 11 AM to 12:30 PM. when families and children of all ages are invited to the library. John Jerro of High Society Big Band announced that the Red Friar's New Year's Dance will be back at the Moose Lodge this year after a COVID induced hiatus for NYE 2021. While we were still "in the mood," we were joined by Gina McAndrews who invited us to share her experience variety of dance bands she has enjoyed there in the past twenty years at the legendary Lake Robbins Ballroom (lakerobbins.com) and where the 11 piece Gaylin Sudik Orchestra will be playing this year. And to wrap up the evening we got a preview of an authentic ball drop at Ames' Mucky Duck Pub from the proprietor Marcus Johnson.

Originally broadcast 12/29/2021
Listen to the entire episode now!