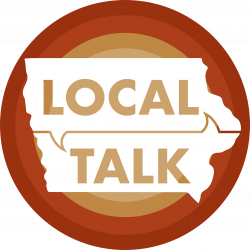 Dennis Hart provides listeners with his news summary of the week from the pages of our local papers.
Story County Community Foundation's Director, Liz Zuercher introduces Harmony Clothing Closet's volunteer coordinator Jalene Hornbuckle the volunteer Elizabeth Gindt. They are recipients of one of the Foundation's community grants.
Harmony Clothing Closet- MAKEOVER Project grant will help pay for the upgrades, repairs, and restorations of the store. SCCF funding will be matched by several community partners.Harmony Clothing Closet is located at 1162 6th street, Nevada.
Dr. Cornelia Flora joined us with information about a Zoom broadcast on Sunday morning, April 24th. The Ames UCC (United Church of Christ) will have of an Interfaith Service on Creation and Climate Change – 10:30 to 11:30 a.m. It will include the "voices" of over 10 multifaith congregations and state organization regarding the beauty of creation, a lament done to the earth and its creatures, and a commitment to healing. The state organizations include Iowa Interfaith Power and Light and the Iowa Green Coalition. A list of supporters of this service and a call for public action will be available.
As part of Earthday weekend obsevances the 37th Annual Theologian-in-Residence program nationally known author, Rev. Dr. Brooks Berndt will on April 23, from 9:30 to 10:30 a.m. be the keynote speaker for a NATIONAL WEBINAR, sponsored by the Ames United Church of Christ. The title of his first session's remarks is: "Why Prophets Matter Today." The general theme for the full two-day event is: "The Faith of Prophets: Lessons for the Climate Crisis." The NATIONAL WEBINAR will continue with a second session from 10:45 to 11:45 a.m., "Prophetic Action Today." A panel of three members will include an Iowa State University student, Hector Arbuckle, who serves on the Ames Climate Action Team. The other panelists are : Michael Malcom of the People's Justice Council, the Executive Director of Alabama Interfaith Power & Light organization, and Mellis Kennedy-Howard of Honor the Faith, an indigenous organization.

Originally broadcast 04/18/2022