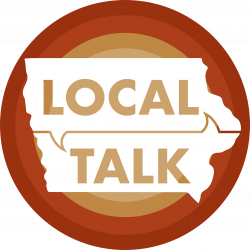 Prairie Rivers of Iowa's Dan Haug along with City Engineer, Tracy Peterson and Story County Watershed Coordinator, Sara Carmichael discuss water quality issues.
Susan Gwiasda Public Information Officer for the City of Ames along with Stormwater Analyst Liz Calhoun.
Discuss The Tuesday evening city council meeting, Makes note of the Mayor's Bike Ride on May21st traveling toward the Tedesco Learning Center and then reminds listeners of out City of Ames and KHOI Saturday environmental programing and the upcoming Ioway Creek Stream Clean-Up on April 30. Last year this event removed 2,500 pounds of garbage for local waterways. It is part of the stash the tra
Anna, Magnusson KHOI's Top "Good News Banana" Delivers her Tune-in-Tuesday.
offerings of Poems, Music, and a review of Tuesday programs;

Originally broadcast 04/19/2022