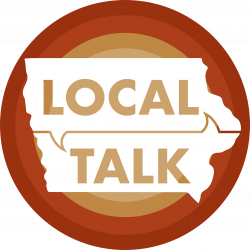 Local Talk for Friday, April 29, 2022 started with recap of the news for this week from the Ames Tribune by Dennis Hart.
Deborah Bunka, Outreach Coordinator with the Iowa Farmer's Union. Deborah provided calendar of upcoming events and their contact at 515-451-8492. And she shared a quote from a Clear Lake member, "Don't lose faith, don't lose the fight!"
Susan Gwiasda, Public Relations Officer with the City of Ames included Arbor Day tree planting at Stewart Smith Park. Check website for possible postponement. Justin Clausen, Public Works Operations Manager, provided update on spring maintenance projects. Also, employment opportunities were laid out for the city.
John Howe, Director of the Raptor Resource Project, talked about their recently fledged Canada Goose from their Decorah Eagle Cam nest. Also the 20+ year female eagle was discussed as she has apparently failed to successfully nest for the first time in 16 years.
Music featured Jim Kweskin and included, Relax Your Mind and Fishin' Blues.

Originally broadcast 04/29/2022
Listen to the entire episode now!