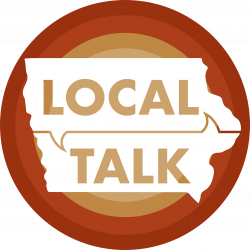 Local Talk for Friday, May 6, 2022 started with recap of the news for this week from the Ames Tribune by Dennis Hart.
Ames Reunion June 10, 11, and 12 was featured including Cynthia Oberlin Page, Rob Louden and Larry Stoltenberg. Early plans are to gather at Mother's Pub 7PM Friday Night, Great Hall of Memorial Union 3 – 10PM Saturday, and Brookside Park 11AM Sunday picnic. Check website for further developments: amesreunion.com.

It's a digital home for you counterculture types who wandered through Ames Iowa/ISU during the sixties and seventies. Reconnect and reminisce with those good friends and wacky people you used to hang out with!! You are urged to sign on with your name, home address, and email address. You may also post photos, anecdotes, updates, etc. To do this, follow the site directions, or just send them to

amesreunion@amesreunion.com
Susan Gwiasda, Public Relations Officer with the City of Ames included Ron Edwards Ames, Animal Shelter and Animal Control Supervisor. Ron Edwards talked about spring outdoor wildlife, what is normal, and when an animal may need human intervention (not often!).
ISU Extension Mary Wilkins discussed: May 24 Beekeeping 101 6-7 pm attend a live stream. May 26, 10:30AM: Gardening programs for youth – with Roland Library and with Reiman Gardens. Tuesday June 7 1PM: Growing Up Wild is a program for preschool aged children with an adult. And there's: Day long program offerings are available for youth in kindergarten through 3rd grade and 4th grade and up.
Music featured Mother Dugan from their cd Day From the Light, Walk On the Moon, Drivin' and Every Morning.
Amesreunion.com
cityofAmes.org
May 26 10:30AMwww.extension.iastate.edu/story
Phone 515-337-1601

Originally broadcast 05/06/2022
Listen to the entire episode now!